Hi lovelies
So I've been a little busy this week settling in the UK before I start my exchange program at the end of the month. However, I'm taking a bit of time out today to write you a quickish review. Today I will be reviewing Collection 2000's Lasting Perfection Concealer.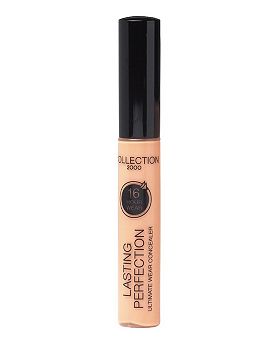 I have to say, I LOVE LOVE LOVE this concealer. It works outstandingly well and is more than affordable. Here is what I think of it in more detail.
Pros
Coverage is outstanding
I have never EVER used a concealer I like more. This concealer has a cute little wand for application that allows you to apply the concealer exactly where you want it. I use this concealer to cover blemishes and breakouts, and also under my eyes to highlight. I blend this concealer with my Real Techniques Expert Face Brush and I have been delighted with the coverage I have gotten from this product.
Inexpensive
This concealer costs around 4 pounds (just under AU$7). For the quality of this product, this price is amazing. It is far superior to products more than double that price.
Shades are great, particularly for pale skin
I have very pale skin, and as a result I struggle to find concealers and foundations that will match my skin tone, and not make me look to yellow or brown. This concealer in Fair almost exactly matches my skin tone, a revelation for me! This concealer comes in 4 shades: Fair, Light, Medium and Dark. Testing it on the back of your hand or on your jaw line in store will help you decide which is the shade for you.
Cons
Not available outside the UK and R.O.I!
Unfortunately, as far as I can tell, Collection 2000 does not market legitimately outside of the UK and Ireland. You may be lucky to find some sellers outside of these areas, but as always keep an eye out for counterfeit products and rip-offs! Other great concealers that are more available are Maybelline Fit Me Concealer, Revlon Photoready Concealer and Rimmel Match Perfection Concealer.
That's all for now, guys. My next post will probably be next week, but I'll try my best to do one at the weekend,
Hope you're having a great day wherever you are!
Beth xx